Back To Blog
The cost of garage doors varies. You can find one for as low as $500 to as high as $10,000. Depending on your budget and needs, you'll find one that's best for you. There are various factors that affect the price of overhead doors. Being aware of this can help you decide which door would likely fall under your budget and which areas to adjust in order to get one with the features that are most important for you.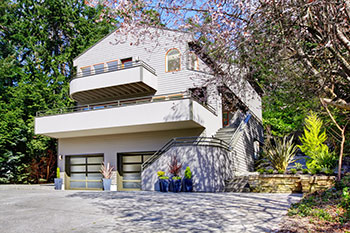 Factors affecting prices
According to garage door repair specialists, one of the factors affecting garage door price is the type of material used. Glass doors are usually the most expensive. Wood doors on the other hand are cheaper than glass, but are more expensive than steel. They also come in different grades. Thicker ones cost more. Another factor affecting the price is the style. There are various styles to choose from, customization is even possible, in case you have a specific design in mind. There are plain simple doors and there are those with garage door windows. Even their windows arrive in different styles. Most often, the complicated the style, the more expensive it gets.
In case you wish to have an automatic door, you will need a door opener for that. This is an additional cost. Door openers usually range from $150 to $300. When an opener is installed, you can use a clicker or a keypad for opening the door. New safety and security features are also available, which you may wish to have for your door. Again, these would be added costs, but if you have the budget, it's recommended to get them. One with a sensor would detect if there's an obstruction on the door. It will then retract immediately to prevent damaging the object or hurting someone.